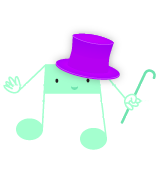 Producing new music is sometimes the best alternative for a production. Both for creative reasons as for budget reasons, as it is often a less costly way to go.
music super circus work only with the best composers and artists available. We promise! (And when saying 'the best' we don't necessarily mean well-known artists or music producers. Au contraire: designing music often needs someone and something else. Let's talk more about that.)

Making the right analysis of what we need, and finding the right musical direction or track, is as tricky as it is important! And we really should try to make conclusions as soon as we can in the process, since time is very often not on our side.
This is what music super circus do best. And we try to begin this process already on the script stage. And without prestige, I might add: it doesn't matter where the right idea comes from. As long as it comes when there is still time to execute it!

Whether we decide to buy existing music, or produce new music, there will be obstacles. If we're looking to use an existing track, the number of ways things can go haywire are too numerous to mention. And even if the usage is approved, there are still negotiations, agreements, legal aspects, etc. that needs to be dealt with.
Producing new music also has its difficulties, not least from a copyright and legal perspective! And since you don't want to have those problems, you should let music super circus take care of it. We are not trying to scare you. We just want to avoid anyone getting hurt. You're welcome.
Join the circus!